In every house, you can find one or two display shelves. Especially now, when we have open resources for design inspiration such as Pinterest, Houzz, Online Magazines etc. people understand the idea of having display but keep it to extreme minimalism style. The typical display would be a collection of random framed family pictures or couple of candles, vases.
I want to encourage you to make display unique to your individuality and to your home style, don't be afraid to add more, don't hesitate to show off!
Try to look at the top of your console table or shelf on a wall not as an empty place for STUFF. You put a great afford choosing paint, wallpaper, rug, light and put the same afford to your display shelf. It is amazing how beautiful, well-organized objects can transform the look of your room, it can complement colour scheme or complete the overall look.
Very often I hear from homeowners that they like it neutral colour scheme and they avoid colours because afraid to overdo it. Then room is dull and not complete. You feel it and know it but not sure how to change it. I will tell you that display is exactly what you need! Display with few colours can be the best solution to brighten the room up and achieve balance of neutrals and colours.
In general, display is all about your personal taste but there are several common rules for the best result:
Display in-group!Collect all objects together and try to divide them on groups of 3, 5, 7. These numbers are most attractive to our eyes – balance, sometimes symmetry.
Objects in-group should have different height! Start from the back – place the tallest and moving forward, place smaller things. You can use the same height items if you display them in line. Otherwise, show variety Big, Medium, Smaller.

Display via Kelly Hoppen Interiors
Add textures! Don't hesitate to combine accessories of different material and types: Frames and artificial plants, metal shiny clock with drift wood etc. Unpredictable combinations are more eye attractive. We want to look, investigate what we can find on a shelf. That's what display should be!
Add colours. If you love neutral colour scheme then use display as opportunity to add careful brightness. Add objects of chosen colour into display group. One or two colour tones in each group will make a trick! Once you want your room to change colour, add new objects with new tone and Voila!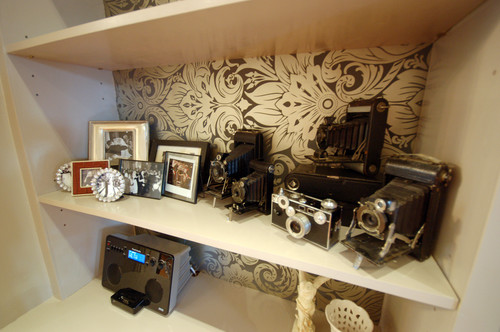 Believe in yourself, experiment, try it, have a fun and you will be amazed what you can do!
Design with your own style!
AlenaC